What Are

Others Saying?
"I am an avid promoter of teaching children of any age Biblical doctrine and theology in order for them to have a solid foundation to their beliefs. I also believe character training is crucial to any discipline style to allow little ones to begin to understand their fallen nature and the characteristics that they must begin to develop. For that reason, I can highly recommend The

ABC's for Godly Children curriculum."
"The ABC's

For Godly Children

has truly made such a difference in our homeschool routine! I can honestly say, even if I wasn't homeschooling, I would try to implement in some form or fashion to our daily routine!"
"If you are looking for a simple method of teaching your

child

Godly character look no further."
What Is The ABC's For Godly Children?
The ABC's For Godly Children is a comprehensive, Bible e

C

urriculum

centered around teaching children ages 4-10 about the God they serve and how to have a heart like His.
By using each letter of the alphabet a Bible lesson is presented in an understand

able and interactive format

to teach core truths

concerning the

Gospel, Godly Chara

cter, and Biblical Manhood and Womanhood.
Your children will learn their ABC's and a necessary Biblical foundation as they connect them through Scripture memorization, detailed lessons, simple crafts, and interactive song.
This curriculum can be used as part of family devotions, a single or supplemental homeschool curriculum, or even as part of a Sunday School class

program

. It is a flexible curriculum wit

h all of the tools to aid its teacher, but can easily be added to if desired.
In our home The ABC's For Godly Girls is used as part of our "Sub

ject

of The Week" Program. You can see how I implement this curriculum HERE

.
This curriculum teaches children many necessary lessons in one package:
Christian Character and Virtues

Biblical Manhood (The ABC's For Godly Boys)

Biblical Womanhood (The ABC's For Godly Girls)

Basic Doctrine and Theology
It includes many fun and educational resources:
The ABC's For Godly Children Scripture Flash Cards

Hiding God's Word In My Heart Worksheets

Godly Virtues BINGO Game

The Pathway To Salvation Maze
What does each lesson contain?
A Primary Bible Memory Verse

Bonus Bible Memory Verses

A Detailed and Interactive Lesson

An Activity Prompt

A Craft Idea



Click Above to View Sample Lesson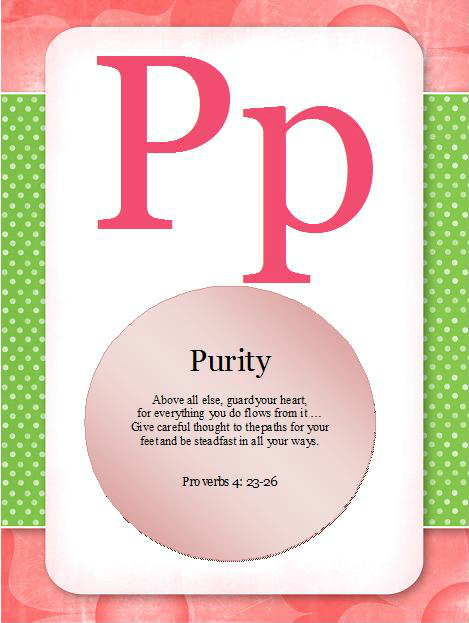 Girls Flash Card Boys Flash Card
The ABC's For Godly Children can be purchased separately, as there is one for boys and one for girls, or together in a discounted bundle package.
If you have your own website or blog and would like to read more about our affiliate program please CLICK HERE

.
In order to receive your own copy of The ABC's For Godly Girls or The ABC's For Godly Boys Curriculum just simply click the "Buy Now" button below. Your

P

DF download will be readily available to you via email following verification of your payment. It is that simple!
Buy The ABC's For Godly Children Curriculum
The ABC's For Godly Girls (PDF)
If You Have Any Questions Concerning This Bible Curriculum
Please Feel Free To Contact Me, Lindsey, At Roadto31@gmail.com.
Still Have Questions? Need More Info?
Why Is Teaching Biblical Doctrine and Theology At Such A Young Age Important?
I have heard more than my fair share of people say to me, "Doctrine and Theology is not important.

We should just stick to what the Bible teaches."

The problem with this statement is that doctrine and theology IS what the Bible teaches.

The Bible teaches us about God (theology) and about His ways and commands (doctrine).

Our goal as parents is to teach our children right theology and right doctrine.

This curriculum is meant to be an aid to you as you traverse these difficult subjects during your child's Biblical education.
We cannot ignore its importance.

We must guard our children against false teaching and prepare them for the Christian walk we pray is ahead of them.
How Is Character Training Different Than Discipline?
Discipline is not the "fun" part of parenting but it is a necessity.

Discipline is what we do after the need arises.

A child lies so we punish them.

Child training, on the other hand, is premeditated and it concerns the heart of the child more so than the actions.

The purpose of child training is to teach the child his sinful state before the Holy God and that through disobedience the offense is not against us as the parent but against God Himself.

This opens the avenue of sharing salvation with the child and the grace and mercy that our loving God offers to those who love Him and have faith in His Son.
This curricul
um introduces certain character traits that the bible commands Chr
istian
s to possess such as love and purity
. By preemptively training the child, Biblical truths are instilled so that when the child sins, as a parent you do not have to start from scratch. Take them back to the Word of God and discuss what they know to be true, discipline them, and offer them the same love and mercy that Christ give you, Father or Mother, when you sin against Him. Our example is the best lessons we can teach our children. We are sinners, God saved us, and now we are His disciples. When we fall, we must repent. He forgives. Even if we must suffer consequences if

this

life our God is always faithful.
Why Do I Need To Teach My Little Boy
The Subject of Biblical Manhood?
Far too many boys are being raised today without any understanding of what the Bible has to say about the qualities a godly man should possess.

Masculinity has been undermined by the feminist regime and the Biblical man is under assault at every turn in our modern day culture.

Our children are not born a blank slate.

They are born with a physical, emotional, and spiritual sense of who they are and what they are made of.

Boys will be boys, but these boys will not become men unless we teach them to act like men.
A boy must be taught from a young age, both by example and by purposeful teaching what a man ought to be and look like.

As parents we must train our boys how to balance leadership and love.

A boy untrained will more than likely turn out either hard and abusive or passive and soft.

We do our sons a great disservice by not training them in Biblical manhood from a young age.
A mother has a great role in her son's life as an example of what his future wife ought to be.

A father has a greater role in his son's life by showing his son what he ought to be.

By purposeful training and example we can influence our sons to Biblical manhood in his future marriage, family, work, and ministry.

What a responsibility we have as parents to lead our children into righteousness!
The ABC's For Godly Boys Curriculum Contents


A is for Attitude
N is for Neighbor
B is for Bravery
O is for Obedience
C is for Covenant
P is for Pride
D is for Disciple
Q is for Quiet
E is for Edify
R is for Repentance
F is for Father
S is for Salvation
G is for God
T is for Treasure
H is for Heaven
U is for Unity
I is for Idolatry
V is for Virtue
J is for Justification
W is for Warrior
K is for Kindness
X is for Cross
L is for Listen
Y is for Youth
M is for Man
Z is for Zeal
Why Do I Need To Teach My Little Girl The Subject of Biblical Womanhood?
Far too many girls are being raised today without any understanding of what the Bible has to say about the qualities a godly woman should possess. Modesty, purity, virtue, a right understanding of beauty are just a few of the things girls should be taught from a young age. With the secular culture that we live in and all of the media surrounding us, girls are bobarded with every kind of lie just lying in wait to destroy them. We must watch carefully what is being funneled into our children, may it be profitable and goly, not those things that are of this world. Our goal ought to be that our girls, whom we diligently train by word and by example to be godly women ,hear at the end of their lives, "Many women have done excellently, but you surpass them all." (Proverbs 31:29

)
The ABC's For Godly Girls Curriculum Contents


A is for Attitude
N is for Neighbor
B is for Beauty
O is for Obedience
C is for Courage
P is for Purity
D is for Disciple
Q is for Quiet
E is for Edify
R is for Repentance
F is for Faithfulness
S is for Salvation
G is for God
T is for Treasure
H is for Heaven
U is for Unity
I is for Identity
V is for Virtue
J is for Justification
W is for Woman
K is for Kindness
X is for Cross
L is for Love
Y is for Youth
M is for Modesty
Z is for Zeal